Radicon Fluorescence Upright Research Microscope (Premium–9000 RFT Optima)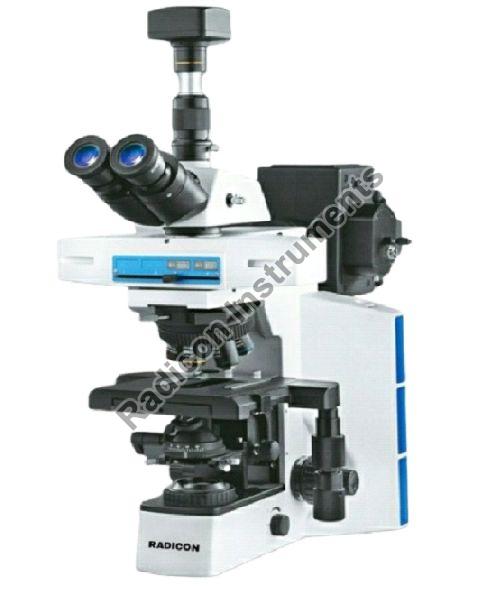 Business Type
Manufacturer, Supplier
Magnification Range
20x to 1000x
Eye Piece (Anti Fungus)
Extra wide field 10x (paired) F.O.V. 25mm
Objectives (Infinity Corrected & anti-fungus treated)
Plan Achromatic 2x, 4x, 10x, 20x, 40x (S.L), 100x Oil (S.L)
Click to view more
Product Details
Focussing System
Co-axial Focusing Control with Large Knob. Pre – Focusing Lever & Tension Adjustment Ring
Nose Piece
Reverse angle sixtuple nosepiece on ball bearing, Slot for polarizer & DIC
Substage Condenser
Swing Out Front Lens, N.a. 0.9/1.25, Filter Holder and Iris Diaphragm
Model
Premium – 9000 RFT Optima
Trinocular Observation Head
Siedentopf Observation head inclined at 300 rotatable at 3600
Vertical Focusable phototube for microphotography.
Diopter adjustment ring on ocular tube (+5).
Interpupillary distance from 50mm to 75mm.
Mechanical stage 
size 187mm x 167mm. Detachable & Rotatable.
The mechanical stage has low positioned co-axial controls on ball bearing guideways
Excitation Filters
B Excitation (400 – 490nm) 
G Excitation (510 – 550nm) 
UV Excitation (330 – 385nm) 
V Excitation (400 – 410nm) Light Source: Transmitted Kohler light source: 3W LED or 12V / 100W tungsten halogen bulb.  Epi - Fluorescence light source: 100W high pressure mercury lamp.
Looking for "
Radicon Fluorescence Upright Research Microscope (Premium–9000 RFT Optima)

" ?